Why I don't need to travel in my 20s
While you want to travel to find yourself, I want to travel to find out more about other people…
I'm tired of the internet telling me how to live my life. No, I'm not talking about the ads that seem to be tailored to fit my every whim and fancy, I quite enjoy online shopping. I'm not really tired of social media either, I don't mind reading about what people have been up to, or connecting with long lost friends. I don't get the backlash – people can misuse just about anything, so why put all of us into little boxes? I see no harm in any of these things. There's no intense hatred, I'm willing to let those lie, although I do have my anti-internet days. But, I can always bury myself in a book and forget. No harm done. This anti-social-media war is, quite frankly, pretty tiring to me.
But I'm really; really tired of the internet telling me I have to travel. I don't mind reading about people's travels and I don't mind looking at their pictures and congratulating them on their gorgeous sea-facing villa escapes. But, there's a dozen people in my life and a couple million in the world who are right now, at this very moment, perusing through travel blogs with green eyes, snipping out little pictures of the Eiffel tower to pin on their walls (ah because Paris is très chic) and pretending to be part of this big, enlightened movement because they climbed to the mountains for a week or took a trip to some obscure destination that's, well, not commercial or expensive or luxurious.
They've roughed it out, done it all by themselves and thus earned their Columbus badges, they're in an inner circle that the rest of us aren't privy to because we haven't given up our jobs yet to join them in their romantic, idealistic notions of what travel should be like. Because there are rules now. Because it's exactly what these social-media-hating, free-thinking, travel-loving people don't want it to be. Just another trend. Everyone's a photographer. Everyone's a traveller. Heck, everyone's everything these days.
The problem really, is that it's not really going to enlighten you. It's not going to suddenly open your eyes to new things. You could gush about the billowing leaves and rivulets dancing around your feet all day and it still won't mean you know how to live any better. If you're aiming to travel to 'find yourself' – I'm wondering why you need to escape your own life in order to be able to do so. And why are you so lost in the first place? Where is this identity crisis coming from? Or is it just because you feel you must have a sense of despondency and gloom in your current life to be able to truly soak up new experiences? Vacations – I'm all for vacations. You didn't have to give up your job (ah the consistent, unreasonable job jumps are just another pet peeve I'm afraid) and spend your life (well, three years probably) savings on a year out of the country.
This by no means suggests that I do not want to see the world. In tune with the generation I grew up in, I feel an insane urge to get up and set off across the world on some sort of solo backpacking journey and come back with tales of travel that are wild enough to write about in a Bill Bryson esque novel. The thing is, Bill Bryson, with all his OBE worthy tales of lands and cultures (Notes from a Small Island was my first and most significant Bryson book. The rest are much less memorable, but maybe it's because I'm not exactly living vicariously through him) – is, well, Bill Bryson. And I don't want to be Bill Bryson. And I don't want to be Columbus. And I don't want to travel just because if I don't I'll miss out on some essential part of my life. Must I really travel in my twenties? There seems to be some sort of time stop on it – as though if, god forbid, I wanted to earn and put away some money instead for (shame on me for saying it in a YOLO world!) my future. If I wanted a steady job that paid me every month till I managed to put away enough to do all those things I want to do – would that really be so bad?
There's this urgency in every 20 something around me. Do I feel it? Yes. Probably not for the same reasons though. I don't want to throw my hands up in the air, give up everything and roam the streets of Paris. Oh I'd love to roam the streets of Paris, but I'm pretty sure I'd like to have some sort of assurance I wouldn't be roaming streets forever. I'd love some place to call home… a bank account with my name on it…
Where does all this come from? I was okay with it when it was walking around masquerading as strange people I don't know over the internet. And then this disease started to affect people around me. So now, there's people who've never picked up a book in their lives, pretending they're suddenly going to learn all there is to life and everything about the world and its people by taking a trip to the mountains, sitting around in a huddled group by the beach and taking pictures of the ocean. Where's the balance? I'd love a balance. While most people I know spend their entire life talking about travel, making one trip (ah but I must mention – on their daddy's credit card more often than I'd have liked to witness) and then pretending they're philosophers… it just makes me wonder why they think there's so little time left to travel and so much, to form solid careers. What's wrong with being in the place you are, with yourself? Why are you so scared to be you, now? Why do you need to get away so much? Of course, the pseudo traveller would never agree this is why they're getting away. They're explorers, wanderers, free souls…
Here's the deal though. Travel is expensive. It just is. Even a weekend out of town is going to set you back at least a couple thousand. It's definitely a better investment than a lot of things we spend on in the city, sure. I'd much rather be staring up at the stars than stuck in a rickshaw for two hours and paying the same amount in a week or two. Go ahead, take a road trip. Explore the country, see the world. But I don't want to do it because I need to find myself. Or because I'm trying to get away from this 'over commercialised life (insert frustrated 20-something speech about the evils of consumerism here while booking plane and EDM concert tickets over the internet).' I want to travel to see the world. I want to meet new people. And learn about new cultures.
But, I don't subscribe to the view that there's a time cap on that. Sure, sure, life is short. You never know etcetera. However, what happens if all your planning for the end stretches out till you're thirty and then forty and then – oh dare I say it – fifty and sixty and… Well you're an old, wrinkly little creature lounging around on a beach somewhere with a coconut for dinner. Alright, let's not make it so dramatic.
Don't worry. If you're a traveller, I don't hate you. If you're a grounded traveller, with a steady job who thinks about where they're going to be in 20 years and decided soak up something apart from posts about why they need to travel, I admire you. If you're a traveller who has a life, an individual sense of self and absolutely no airs about being part of a secret travellers group, I want to be you, or maybe accompany you on a trip sometime. And if you're the sort of traveller who can tell me all about where you've been without trying to hint that I'm wasting my life at my job, or spending too much time working when I could be travelling, or asking me why, why is it that I don't really love travel (ah the misconception), or warning me about how every year it will be too late – you're probably my best friend.
I'm going to travel, I do travel and I will travel. Maybe my weekend trips are not as enlightening as your week-long hamlet sojourns, but I'd rather not think of my life as over just yet. I'd rather work my butt off while I still have the energy to do so. I'd rather take a vacation than find an escape route. I'd rather work on loving life where I am, than trying to find a way to flee it. Of course, that's probably just me. And that's okay. I'll probably still read the articles. I'll always still want to travel. I guess I'm just okay with wanting to 'truly live' anywhere in the world – at any given point of time. Not just when I'm travelling.
*After writing this in the midst of a set of pretty tough exams (surrounded by posts of 'Travel now' and 'Why every 20 something should travel now' and 'Things 20 something's need to know about travel' – with probable tweaks in the names) I put it away and forgot about it, scribbled on a sheet of Ginsberg notes. And then while doing a major overhaul of all these scribbled notes to throw them out I found it, typed it out and then sat on it for around a week, confining it to that 'Random' folder that is usually, quite mysteriously deleted. And then, today, I finally decided that I could post it. I mean, I can delete it if I really want to, but like most things on the internet – no one's really going to see it anyway, right?  ;)
Seasons in the sun
The winds of change are rife amongst the clouds again, 
Waving their fiery hands through pillows of white,
Disrupting the soft twinkling of the stars
and dropping like meteors, creating craters around my feet…
Its funny how incredibly full of change my life has begun to be. And although I'll still blog about it, whine about it and sit despondently wondering why everyone has to leave, I'm going to avoid a Peyton-esque breakdown and instead of drawing dark angels and scribbling 'everyone leaves' all over the place, I'll limit my adieu's to a more cheery, accepting sort.
There are first times that wander slowly through us
Breaking through initial reserves but still falling short
of perfection
My first day at work, I remember sitting at lunch with a handful of people I hardly knew, watching them eat, painfully noting down quirks and habits at the back of my mind and wondering how I was going to let this become my life. Not because I didn't like any of them, but because I didn't see work as a place to make friends, to form relationships or even to spend hours laughing at the silliest things, like I've ended up doing with you.
Fair weather friends that you're expected to leave where you made them - at work, offices friendships are not the sort of friendships that you think are going to stick. There's a few that break past the usual conventions though – and then there's really nothing like it…
The curtain's drawn back and everything is still
but for the quiver of the wind
And a silence that breathes in comfort
To say I've had just one perennial friend through the first few years of my adult life (because for me, starting work is the benchmark of being an adult, no matter how young or old you are when you begin) would be a tad insulting and a bit unfair to all the other really good friends I've made. But, there's just one or two that stand out and any change involving them hits you a little harder than most.
So let's get off the rambling horse and begin the little bit that involves a more mellow, sing-a-long tone. Not quite as melancholy or foreboding as the title to the piece perhaps, but with a little dash of 'goodbye to you my trusted friend' thrown in there, a line that's haunted me for a couple of days now, but accompanied by a strange tinkle of laughter that's astonishingly different from the expected tears that one would imagine complimenting it.
The worst part about change is that it always involves someone leaving or something, well, changing. And as easy as it normally is to spew out words, to etch little memories into my mind and spit them out through the fingers tapping away incessantly at a keyboard, there are some changes that warrant a slower, but more chaotic chain of thought. I've never stopped so many times to wonder how to write something down, gone over moments in my head to see which one fits the short space that I've been given to say a cheery goodbye. I'm going to go with none at all, because none are minor enough to delete from an account and most will leave everyone with that sickly sweet feeling – I'd rather have you not throw up after reading this, you see.
Quietly the sun dips,
the horizon changing to fit our own tune
Dusk and dawn merging for time to stop
because we wished it together
Seeing you everyday will change, but that doesn't mean the end of the world, or us. But, through all the positivity, something will change and a lot will be missed. There will be times I'll wish you could light up a bad day, send a one-liner to make me smile and cheer me up on a cloudy Wednesday with a cup of coffee and an interesting story. We've traveled so much, (metaphorically) interweaving the past with the present, bringing up sunny futures when we draw our own dreams of the future. Knowing you a lifetime is not something I can hold claim to, but knowing you well is something I'm proud of being able to say. And at the risk of being incredibly sappy, knowing you at all is something I'm always going to be grateful for.
Often, someone comes along that you can share absolutely everything with, which is almost scary. It takes time of course, to move beyond the initial impulse to bare your soul and wait till you know it's actually going to be worth it in the long run. And when it is, it's a feeling like no other, something I've been lucky to have for a little less than two years now – a time period that seems shockingly short and one which hopefully, will continue to grow. And for that someone, there's nothing you can say that will ever be enough, but the best part is – you almost don't have to say anything at all.
They're settling slowly, the winds.
Making way for everything to move past
for us to jump over open craters
and fall back into the steady rhythm.
Making friends is not difficult; it's keeping them - that's the challenge. Albeit, when you're at the same job, working almost the same hours and spending more than half of your day together – it's easy to think you're going to be friends forever. But there's this gut feeling, this slight pricking at the back of my mind that I usually ignore, pinning it down to loving someone a little too much only just when they're about to leave.
This time though, I think I just might open up the vault and believe a little more. There are no tears (yet?!) and less sadness, and it might be denial that will jump out at me on Monday. But right now, I'm going to pin it down to a real friendship and a little more faith than usual.
"There are no goodbyes for us."  
[- Mahatma Gandhi]


Poetry in Motion
The Tree of Life is one of those movies. You're either going to want to cry over it because it's so beautiful – or you're going to want to walk out halfway through…
Missing the first twenty minutes or so of a movie is always a disappointing feeling, especially if you've spent it stuck in a rickshaw behind a mess of cars, bumping around over potholes and feeling sprays of rain water hit your face.
On a side note, I'm glad I read absolutely zilch about the film before I saw it. The title was a bit of a give-away about the essence of it all, but if I'd read the back and forth's, the conflicting views and the heady arguments, I may have been inclined to subconsciously form my own opinion before I had watched it. Going in just before the entrance of the human part of the world as I've been calling it in my head means I may have missed out on a visual orgy (as I was told) – but it did not mean that the movie failed to hit me.
 Around five minutes after I settled myself in comfortably, the family in the seats near us got up and walked out. Not a good start right there. If I'd read about it being a piece that captured beauty and magnified it so much – I'd have brought up my imperfection argument. How flecks of dust on a laptop or freckles on skin can be so much more beautiful than shiny perfection and flawless skin. But Tree of Life makes visual perfection easy to digest. If I'd read about it having such a strong Christian element which is impossible to ignore, my enthusiasm for it would have waned slightly. But Tree of Life makes religious statements poetic and easy to listen to.
Two more minutes and I was too sucked in to notice who was leaving and who was staying. But, it's important here to note that I can sit through a two hour video of a poetry reading. It's important to note because a lot of the movie reminded me of poetry. Of a journey through life as a song. The story may have been compelling and well thought up and cleverly executed - through a series of abstract scenes that makes it important for its audience to sit through with patience and extreme attentiveness to understand – but even if there was no story at all it would have made for a brilliant watch.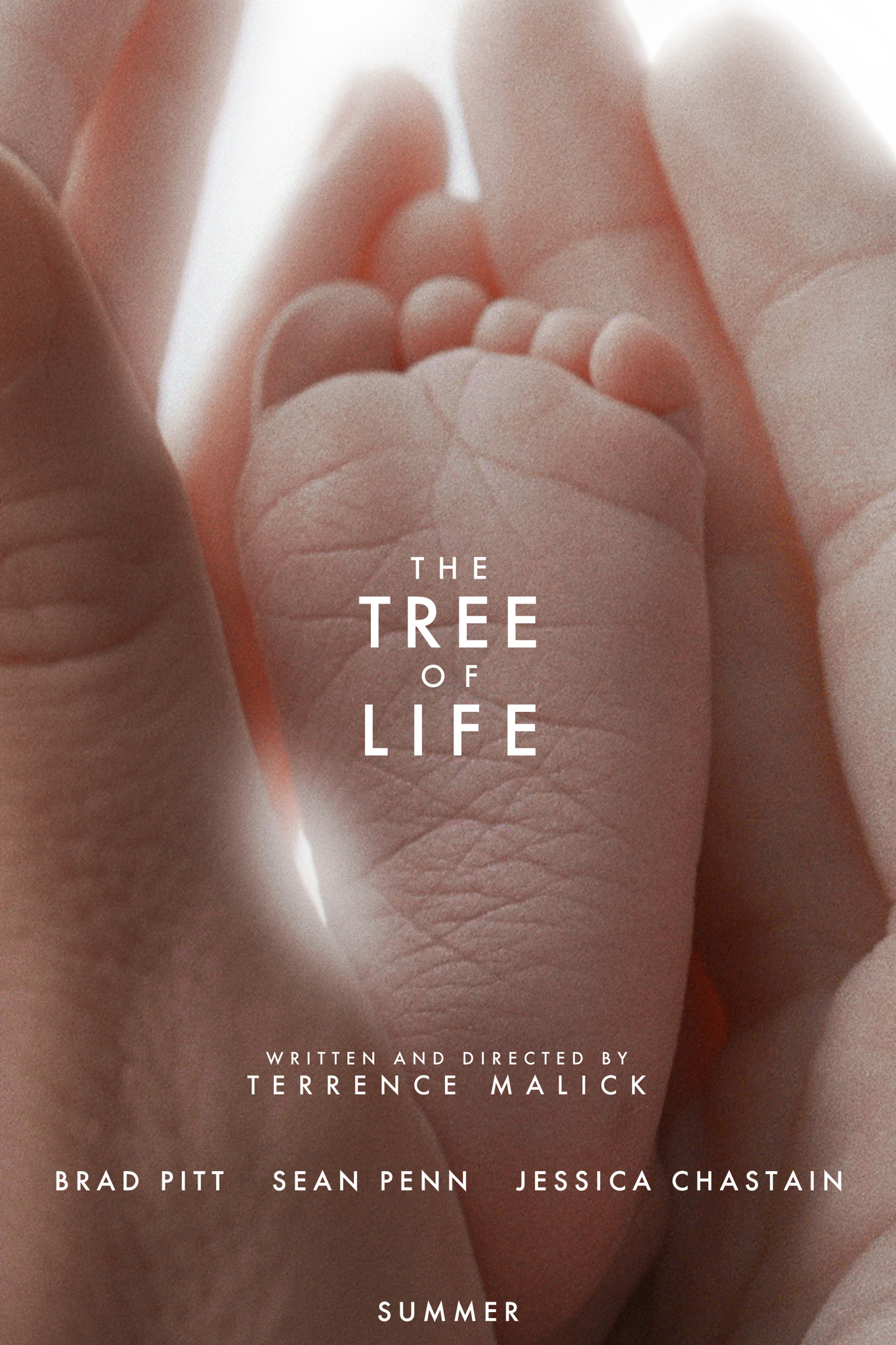 However, this is why moviegoers who are fans of intense plots and action scenes and those with little patience for a double shot of a baby's foot will not enjoy the movie – that I can guarantee. There's something about it however that will appeal to anyone bold enough to be in touch with all their emotions and sentiments. A heady mix of sounds, words and images – there's none of those spectacular movie lines or well scripted dialogues. Which makes it different and a big reason people with either love or hate it.
I'm not going to pretend to be artsy enough to have gotten it to perfection as each scene flit by. Is it even an artsy movie? But it made me feel enough to have my heart pounding by the end of it all. It hit me enough to anticipate things that could happen and to be stuck staring at the screen so I didn't realise how much time was passing. Boring and slow to some it may have been – to me it was the sort of visual experience where you know time is creeping by but you don't want it to speed up and indeed, lose track of it.
And it hit me hard enough (though it abhors me to admit it) for a few tears to roll out towards the end – whether it was the culmination of something I half knew had to happen from the start in some way or the other, or the combination of brilliant shots, breathtakingly stirring music and those murmured words fading quietly… it made me feel. The presence of people around me meant I could hold back on it and cut down on it. Which is why those who cannot let themselves feel will be easily unaffected by the entire experience.
Was its sole intention to stir up emotions? If so, it did a brilliant job. If it wanted to hit us with its story and its innovative plot however, it did little to amaze or enthral. It was a treat for the senses, a mish-mash of brilliant cinematography combined with a few choice statements that were whispered like the words of a poem and music that could make you smile and then cry in a matter of minutes if you were open enough to let it hit you. And yes, I'm going to watch it again. First twenty minutes included, this time around. 
Rambles of a Utopian Nature
I sit and stare at a computer screen all day. No, really. I've the slightest inkling that it isn't good for me. Reading Plato's Republic and Thomas More's Utopia at the same time seems to have made me withdraw into this tiny shell, where I stare at a computer screen, going clickety-clack all day. And then occasionally stare into some books, my eyes scanning past the words as quickly as my brain allows them to.
I have a slight suspicion that I withdrew into this shell a good amount of time before I started reading about Utopian lands and creating my own Utopia in my head. It's not a bad sort of shell really, just the sort that leaves me quite anti social. Although I'm perfectly happy in my little cocoon, tangled in my own web of thoughts and ideas. In a sense this is really who I am, but there was that phase, that phase that everyone has with their overdrive of activity and social occasions and relationships. Maybe I'm finally coming into my own again. Maybe it's too soon to tell. Maybe (and this is my favourite) I've finally found my balance. There's a good chance though, that I'm living in my own little Utopian world.
Yes, back to that. I seem to suddenly be obsessed with the idea of Utopian worlds and ways of life. What draws me (and possibly, everyone who is drawn to it) in is the ability to identify with it and create my own. I won't go so far as to say that the Utopian worlds of fantasy writers appeal to me all that much. It's all well and good to create a world that doesn't exist, a place where your imagination can run wild and detail and description are more vivid than the reality of it all. But there's a flaw in that for me, because it's just so unrealistic. A little bit of reality does me good. I like to feel as though I'm strongly grounded in reality even if I'm really not.
So these Utopian societies are, as the Greek meaning of the word (no place) suggests, relatively impossible to achieve. Which is why it's still so fascinating. If every individual's idea of the perfect world was so easily achievable, it would lose most of it's charm. The idea of an imaginary, ideal place where there is nothing out of place and everything is the way you imagine the world should be, is too tempting a thought to dismiss as rubbish.
So while the concept may not really have any base for reality, may never occur (well, won't occur really) and is just as good as a satisfying day dream, writers will continue spinning their yarns about this little place, creating several of their own and people will continue to dream their own worlds up while they stare at computer screens.
I'll go back to mine. And no, I don't think I'm going to be writing that one down…