Poetry in Motion
The Tree of Life is one of those movies. You're either going to want to cry over it because it's so beautiful – or you're going to want to walk out halfway through…
Missing the first twenty minutes or so of a movie is always a disappointing feeling, especially if you've spent it stuck in a rickshaw behind a mess of cars, bumping around over potholes and feeling sprays of rain water hit your face.
On a side note, I'm glad I read absolutely zilch about the film before I saw it. The title was a bit of a give-away about the essence of it all, but if I'd read the back and forth's, the conflicting views and the heady arguments, I may have been inclined to subconsciously form my own opinion before I had watched it. Going in just before the entrance of the human part of the world as I've been calling it in my head means I may have missed out on a visual orgy (as I was told) – but it did not mean that the movie failed to hit me.
 Around five minutes after I settled myself in comfortably, the family in the seats near us got up and walked out. Not a good start right there. If I'd read about it being a piece that captured beauty and magnified it so much – I'd have brought up my imperfection argument. How flecks of dust on a laptop or freckles on skin can be so much more beautiful than shiny perfection and flawless skin. But Tree of Life makes visual perfection easy to digest. If I'd read about it having such a strong Christian element which is impossible to ignore, my enthusiasm for it would have waned slightly. But Tree of Life makes religious statements poetic and easy to listen to.
Two more minutes and I was too sucked in to notice who was leaving and who was staying. But, it's important here to note that I can sit through a two hour video of a poetry reading. It's important to note because a lot of the movie reminded me of poetry. Of a journey through life as a song. The story may have been compelling and well thought up and cleverly executed - through a series of abstract scenes that makes it important for its audience to sit through with patience and extreme attentiveness to understand – but even if there was no story at all it would have made for a brilliant watch.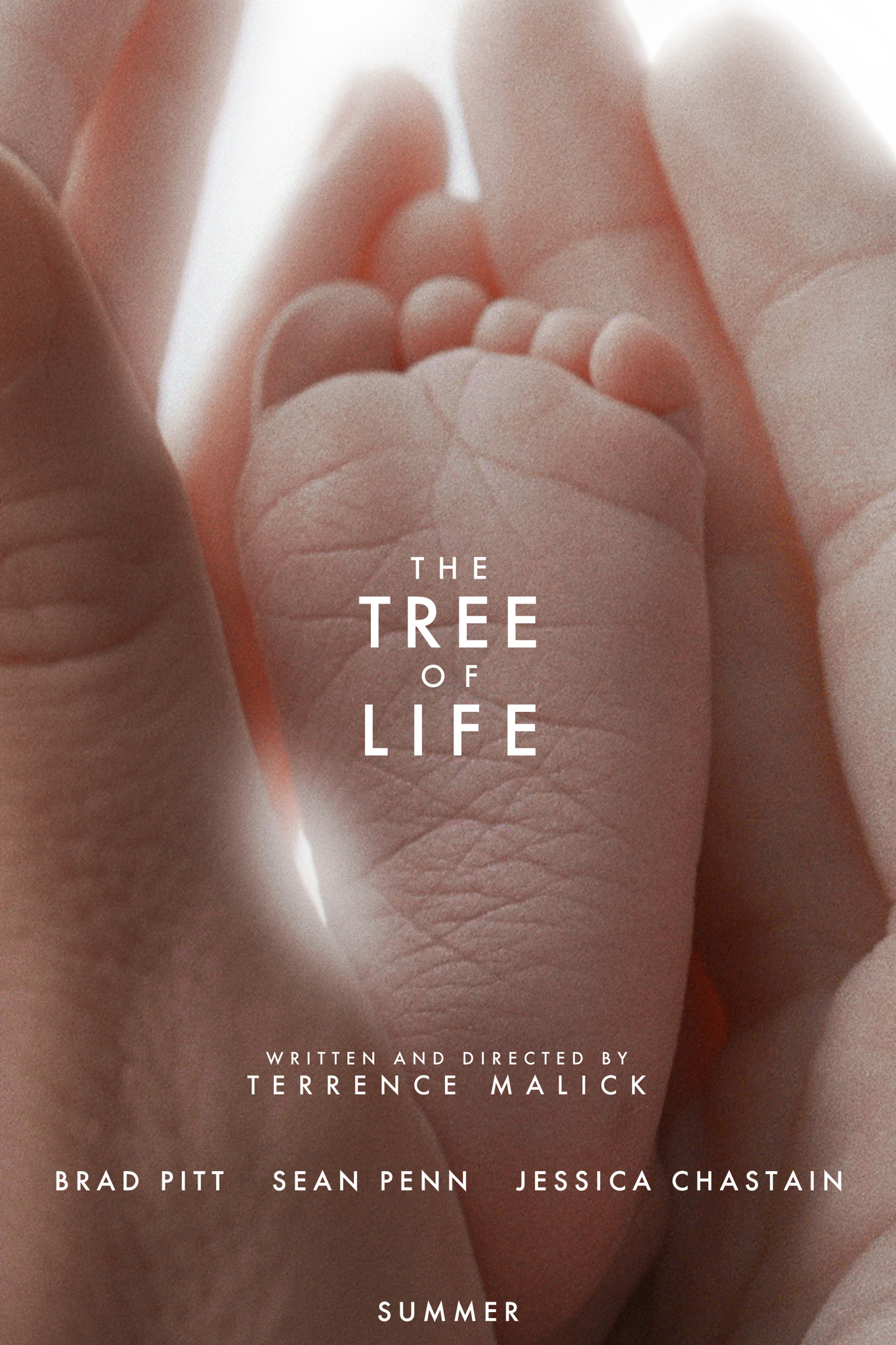 However, this is why moviegoers who are fans of intense plots and action scenes and those with little patience for a double shot of a baby's foot will not enjoy the movie – that I can guarantee. There's something about it however that will appeal to anyone bold enough to be in touch with all their emotions and sentiments. A heady mix of sounds, words and images – there's none of those spectacular movie lines or well scripted dialogues. Which makes it different and a big reason people with either love or hate it.
I'm not going to pretend to be artsy enough to have gotten it to perfection as each scene flit by. Is it even an artsy movie? But it made me feel enough to have my heart pounding by the end of it all. It hit me enough to anticipate things that could happen and to be stuck staring at the screen so I didn't realise how much time was passing. Boring and slow to some it may have been – to me it was the sort of visual experience where you know time is creeping by but you don't want it to speed up and indeed, lose track of it.
And it hit me hard enough (though it abhors me to admit it) for a few tears to roll out towards the end – whether it was the culmination of something I half knew had to happen from the start in some way or the other, or the combination of brilliant shots, breathtakingly stirring music and those murmured words fading quietly… it made me feel. The presence of people around me meant I could hold back on it and cut down on it. Which is why those who cannot let themselves feel will be easily unaffected by the entire experience.
Was its sole intention to stir up emotions? If so, it did a brilliant job. If it wanted to hit us with its story and its innovative plot however, it did little to amaze or enthral. It was a treat for the senses, a mish-mash of brilliant cinematography combined with a few choice statements that were whispered like the words of a poem and music that could make you smile and then cry in a matter of minutes if you were open enough to let it hit you. And yes, I'm going to watch it again. First twenty minutes included, this time around. 
Chinese Literature: Book 1
Alright, first off, this isn't a review. It's a little – 'let me have something to remember what I thought of when I read this book' sort of post. There's reviews dime a dozen flooding the internet, if that's what you're looking for.
I've never read any Chinese Literature before. Not really. And the thing is, I never really knew if I wanted to either. There were so many things about Greek tragedy that enthralled me, things about English history that had me hooked onto Keats and Sheridan and Jonson. And when I was reading modern Literature (I must admit I don't know much about it, purely because my years have been spent studying the classics, not out of a lack of interest in it but more so because of the lack of time after I'd ploughed through dozens of other books through my year).
Now that that's out of the way, let's get down to Chinese Cinderella. I finished it over dinner tonight (probably not something my family appreciated much) and I was surprised with how much I enjoyed it. It's simply written, first of all, which makes it an easy read for anyone and although it's light enough to read over dinner, the subject matter is heavy enough to leave a lasting impression.
I always favour true stories, this one was no different. I stumbled a bit over the first few pages. Foreign languages and math are two of my biggest weaknesses and the first two pages had an elaborate explanation of the Chinese naming system. After a bit of stumbling though it turned out to be quite intriguing – enough for me to want to learn more about this author and her life in China.
I'm not going to sit here and give you a summary of the book – but I would recommend you read it. It's an autobiography, set against a background of life in China, through wars and the rise of Communism – things I'd only ever read about in text books and online, nothing through the eyes of someone who lived through it all, which, believe me, is so much more interesting.
There's an old world charm to the book that you're going to remember too, which appealed to me even more. The backdrop of China going through its own turmoil while a little unwanted child learns what it's like to have to settle (constantly) for everything but familial love and affection can break your heart if you're in the right frame of mind. It didn't move me to tears, but it did make me think.
What's more important to note really, is that it did not deter me from learning more about and reading more Chinese Literature – which is a good thing since I signed up for this
There's no cry for sympathy, no 'My life was so horrid, weep for me' – instead there's sparkling rays of hope throughout. Simply told, with no elaborate twists and turns of plot or language, it stays with you because it (unlike so much writing today) is devoid of fluff and drama and boils right down to 'this is the way it was.' You expect there to be a good dose of poverty and suffering and when you learn there isn't, you wonder how it's going to have an appropriate amount of 'sad' in it. That's the beauty of a story plucked out of reality though. It's sad in its simplicity and you definitely don't have to be knee deep in poverty to feel upset, hurt, angry and betrayed, lonely, sad and helpless. Chinese Cinderella proves that, but adds that much needed 'I survived this' quotient for a really good pick me up at the end.
You know that it's been written with feeling, emotion and torn a little piece out of the author's memories – which to me, is the best sort of writing J We're all struggling for acceptance somewhere or the other. Maybe not to the same (probably not) extent as Adeline – but it strikes a chord there nonetheless.
PS – I got hold of a copy through Faye – after stealing her Twitchhiker (which also deserves a write up but I'll leave her to do the reviewing) copy, it's my mission to read all the books she owns. Or something of the sort.